Danish plug, two poles + earth

SRAF 1962 10 A/250 V
VALID IN THIS COUNTRIES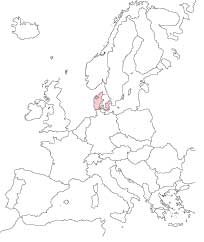 Jacket colours for PVC leads: black, white, grey (other colours on request)
Rubber leads:
black (other colours on request)
APPROVAL SYMBOLS
| | |
| --- | --- |
| | |
| DENMARK | |
| | |
LEADTYPES IN USE AND CROSS-SECTIONS IN MM²
H03VV-F
3 G 0,75
H05VV-F
3 G 0,75
3 G 1,0
3 G 1,5
H05RR-F
3 G 0,75
3 G 1,0
3 G 1,5
H05RN-F
3 G 0,75
3 G 1,0
H07RN-F
3 G 1,0
3 G 1,5
H03RT-F
3 G 0,75
3 G 1,0
CONFIGURATIONS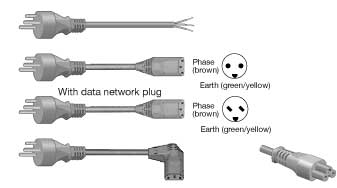 Denmark has its own standard for a plug with two poles and earth, i.e. SRAF 1962. This plug system is designed for 10 A.
The contact pins have a diameter of 4.8 mm. The earthing pin, which is arranged offset, is half round and has a diameter of 6 mm. The center-to-center distance between the contact pins is 19 mm. The plug is polarized.

Plugs CEE 7/IV and CEE 7/VII also fit into the Danish power outlet. However, there is no connection to earth as for the Danish power outlet the plug has to be provided with an earthing pin. For safety reasons, the Danish plug should be used in Denmark.

For electronic data processing systems, there is a special plug/power outlet system in Denmark. The wall mounted power outlet can only accommodate the special plug the data processing units are provided with. This avoids the connection of units with normal plugs to the special computer power network.

On the other hand, the special plug can be inserted into normal power outlets. The special plug differentiates from the normal plug by two flat contact pins arranged at an angle.