Earthing-pin plug
according to CEE 7/VII
Two poles with dual
earthing contacts
DIN 49441 R2 10 - 16 A/250 V
VALID IN THIS COUNTRIES
Jacket colours for PVC leads: black, white, grey (other colours on request)
Rubber leads:
black (other colours on request)
APPROVAL SYMBOLS
| | |
| --- | --- |
| GERMANY | |
| AUSTRIA | |
| NETHERLANDS | |
| BELGIUM | |
| FRANCE | |
| FINNLAND | |
| NORWAY | |
| SWEDEN | |
| DANMARK | |
| ITALY | |
| SPAIN | |
LEADTYPES IN USE AND CROSS-SECTIONS IN MM²
H03VV-F
3 G 0,75
H05VV-F
3 G 0,75
3 G 1,0
3 G 1,5
3 G 2,5
H05RR-F
3 G 0,75
3 G 1,0
3 G 1,5
3 G 2,5
H05RN-F
3 G 0,75
3 G 1,0
3 G 2,5
H07RN-F
3 G 1,0
3 G 1,5
3 G 2,5
H03RT-F
3 G 0,75
3 G 1,0
H05BQ-F
3 G 0,75
3 G 1,0
H07BQ-F
3 G 1,5
3 G 2,5
H05BBF
3 G 0,75
3 G 1,5
CONFIGURATIONS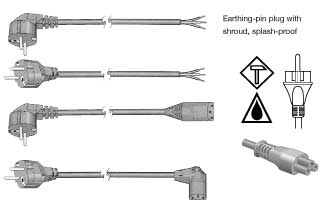 The earthing-pin plug is used as a standard plug in Germany, Austria, the Netherlands, Belgium, France, Norway, Sweden, Finland, Denmark, Portugal and Spain. Variants of this plug are used in east European countries, CIS countries, North Africa and the Middle East.

CEE 7/IV
The earthed standard power plug has two round 4.8 mm pins with a center-to-center distance of 19 mm between each other and two earthing clips arranged at the sides of the plug. As CEE 7/IV plug with single earthing contact, the plug can be inserted in the power outlet in any position as the plug is not polarized (i.e. the phase conductor and the directly earthed conductor are interchangeable). Please observe that the CEE 7/IV plug does not fit into the power outlets as used in Belgium and France.

CEE 7/VII
France and Belgium have a standard power outlet, which is not compatible with the CEE 7/IV plug standard as used in Germany and other continental European countries. The reason for the incompatibility is the earthing pin in the French/Belgian power outlet, which is permanently installed as a round contact. The plug according to CEE 7/VII bridges the difference between the two power outlet types. This plug has earthing clips on both sides, which fit into the contacts in the CEE 7/IV power outlet, and a bush to accommodate the French/Belgian contact pin.