Korean plug

Two poles+earth/Korean plug,
two poles
7A/12A 250 V (no standard)
two-pole plug 3A/250 V

VALID IN THIS COUNTRIES
Jacket colours for PVC leads: black, white, grey (other colours on request)
APPROVAL SYMBOLS
| | |
| --- | --- |
| KOREA | |
LEADTYPES IN USE AND CROSS-SECTIONS IN MM²
Lead types two poles
VCTFK 60 °C
2 x 0,75
HVCTFK 75 °C
2 x 0,75
Lead types two poles
VCTF 60 °C
3 x 0,75
3 G 1,25
HVCTF 75 °C
3 x 0,75
3 G 1,25
CONFIGURATIONS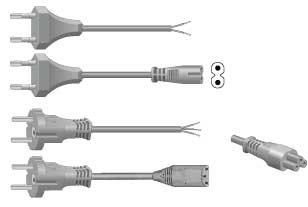 At present, two plug systems are in use in Korea. One of them complies with the UL/CSA system and is mostly in use in North Korea. The system depicted below is mostly used in South Korea.

As concerns the dimensions, the system complies with our earthing contact system and the Euro plug system. Different are the lower loading capacities of 7 A or 12 A respectively of the three-conductor lead and max. 3 A of the two-conductor lead. The lead types comply with the Japanese standards generally used in Asia.
The two-pole plug differentiates from our Euro plug by the diameter of the pins and the pin position. The pin diameter is 4.8 mm and, contrary to Euro plug pins, the pins are straight.

The leads offered by us are provided with the KS approval symbol.